8 worth-exploring destinations in Asia
For those of you who have always dreamed of traveling but doesn't know which country or city to start your journey, begin your adventure in the continent of Asia.
Not only is traveling in Asia a breath of new culture, some Asian countries doesn't require visas for tourists and if so, it's rather easy to acquire. Plus, you won't go over budget if you plan to go there since you can score cheap flights and affordable accommodations in the places.
Traveling in Asia is currently on the rise and that's due to amazing sights, beautiful and vibrant cities as well as fascinating history behind these destinations. Check out these destinations to get you started on your journey to Asia!
Beijing, China
Photo source: Pixabay
With just the right percentage mixture of history and modernity, China's capital is a home to the country's imperial age. The second largest Chinese city next to Shanghai and third most populous city proper, this one among the six ancient cities in China dons several shopping districts which boasts wide variety of goods.
Do visit the outdoor markets as well as it offers one of the best experiences you'll ever encounter while in the city. And since you're in China already, visit their famous Great Wall of China and roam the path many people of the country and tourists alike have walked on and got a glimpse of the beauty over the horizon.
Hong Kong
Located in southeastern China, Hong Kong is a glittering city you must visit at least once in your lifetime. Here you'll find anything from delightful dim sum to street markets where you can shop til you run out of money.
Enjoy the traditional Chinese infrastructures in Ngong Ping village and go straight to the top of Victoria Peak by taking the tram. And let's not let the visit pass without putting a smile in that 5-year old you by touring Disneyland.
Mumbai, India
Photo source: Pixabay
The gem of western India shows off a captivating atmosphere from its exquisite chaotic streets to the colorful and cultural atmosphere, Mumbai is a pleasing picture of India.
The city illustrates the story of the many Buddhist and Hindu caves, one among the reasons why the city is a valuable destination which opens your mind and soul to their cultures and traditions. Feel free to also be extravagant when it comes to shopping and be adventurous when it comes to their delicious foods.
Osaka, Japan
The lesser traveled destination in Japan, Osaka is the country's second-largest city with an estimate of 19 million residents. The city was Japan's capital during the 8th and 9th century.
Osaka reserves ancient shrines and has many other attractions that can face-off Tokyo. From amusement parks to its historical monuments, the city offers a wide range of scenes to tourists and travelers alike. Never leave the city without visiting the Osaka Castle and Shitenno-ji.
Bokeo Nature Reserve, Laos
Photo source: Lifehacker
This nature reserve was established to safeguard the black-cheeked gibbon. To get a sight of the gibbons or see the beauty the forest preserves, you can check the Gibbon Experience as well as the Waterfall Gibbon Experience which offers three hours of trekking along the Nam Nga River.
Why is it the Bokeo province protects the gibbons? IT was thought to be extinct for a while! Don't you want to be a part of the few population which gets to experience the breathtaking nature it offers and of course, see the gibbons.
Bali, Indonesia
At about south of the Philippines and north of Australia, the so-called Island of Gods, it could be the perfect tropical paradise that suits you. It's one of the most-visited tourist destinations which attracts millions of travelers yearly.
Not only should you experience their pristine beaches, dive inside their caves and temples and learn more about their culture. Enjoy the food and extremely warm people as you roam in the small island.
Banaue, Philippines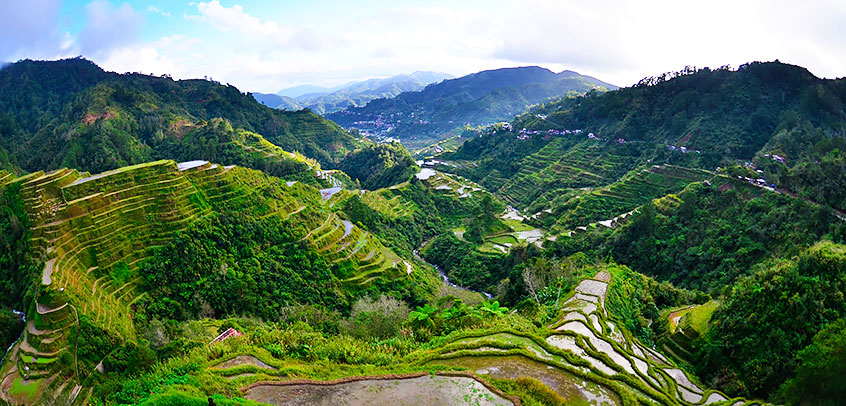 Photo source: Aileen Adalid of I Am Aileen
A small town in the Philippines yet boasts an amazing rice terraces, Banaue is a part of the UNESCO World Heritage Site for its jaw-dropping landscapes you should go see for yourself.
If you want to get a grasp of the Philippines' authentic culture, traditions and food, this is where you should go to. Say no to shopping malls, nightlife, neon lights and busy streets for a while and embrace the rural side of the country. Speak with the locals and there you'll feel the welcoming approach and warmth of the people.
Daehan Dawon, South Korea
Rejoice green tea or matcha lovers out there for you'll find your home and happiness here in Boseong. It is the home of green tea plantation in South Korea which provide at least 40% of the nation's green tea.
Relax and appreciate the view while indulging in your favorite green tea products.
Which Asian countries have you been to and how was your experience? Share it with us!
About Chie Suarez
Chie Suarez sails from the PH and enjoys travelling with her family and dog. She found her passion for travelling quite late, not to mention she writes for Kims Luxury Accomodation & Romantic Getaways in Toowoon Bay NSW Australia.